Samarium Cobalt Block - 3/32" x 1/16" x 1/32"
Product code: 39090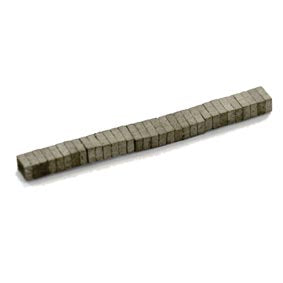 $0.33
buy 100 to 999 items
and
save 10%
$0.25
buy 1000+ items
and
save 32%
Samarium Cobalt Block - 3/32" x 1/16" x 1/32"
Direction of Magnetisation
Axially magnetized thru the thickness
Dimensions
Width:1.5mm, Length:2.28mm
Product Description:
This is a very tiny magnetic block. It measures 3/32" (L) x 1/16" (W) x 1/32" (H).
Product Information:
Samarium cobalt (SmCo) magnets were first produced in 1970. They are composed of samarium, cobalt and iron. Samarium cobalt magnets are valued for their superior strength relative to their size. They are found in a wide variety of devices and applications, especially where magnets need to operate at extreme temperatures. For example, they are found in sensors such as gauges and meters for measuring temperature and pressure in industries like mining, refining, agriculture and the military. Even at extremely low or high temperatures these magnets resist demagnetization and corrosion. 
NB: Ranges are indicative for product category, please check individual products for specic values within that range.