Self-Adhesive Rewritable Steel Magnet Holding Sheet | White | 620mm x 0.8mm x 1M
Product code: 59001C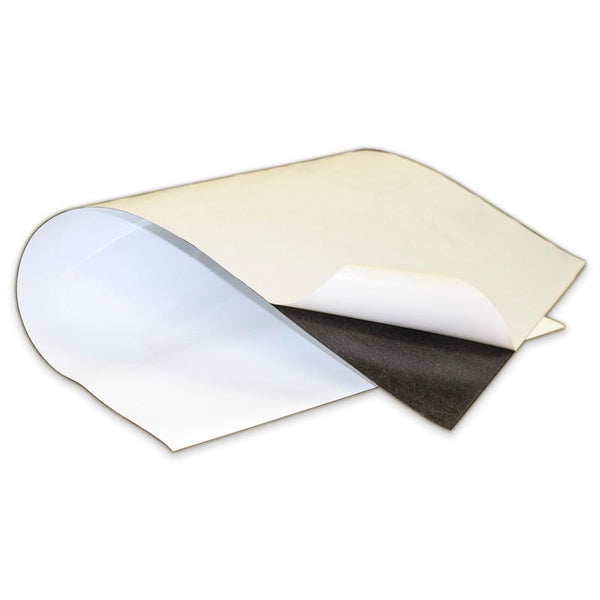 Self-Adhesive Rewritable Steel Magnet Holding Sheet | White | 620mm x 0.8mm x 1M
Style
Self-Adhesive Steel Magnet Holding Sheet
Dimensions
Thickness:0.8mm, Width:620mm, Length:1m
Self-Adhesive Steel Magnet Holding Sheet Product Description:
This self-adhesive flexible sheet has a steel component allowing you to adhere magnets to its white surface. The white surface also is rewritable with whiteboard markers. This self-adhesive sheet is 620mm x 0.8mm and is pre-cut to 1-metre lengths. This product can be used in conjunction with our huge range of Whiteboard Magnetic Products. This product is identified by AMF Magnet Part Number 59001C. 
Uses for our Self-Adhesive Magnet Holding Sheet:
Unlike traditional whiteboards, this self-adhesive magnetic sheeting allows you to create a magnet holding surface on most non-magnetic surfaces. Use this product to turn your wall, window, wooden board or fridge into a ferrous metallic surface or magnetic label. Compatible with almost any finish including painted drywall, steel, glass, finished wood and even existing whiteboards or chalkboards. 
Great for teachers, parents or students to display important information. Installation is easy, simply clean the wall's surface, then peel and stick. You can cut the sheet with craft scissors to fit almost any shape or area.