Rubber Coated Neodymium Pot Magnet - Diameter 31mm x 16mm with Cable Mount
Product code: RCND31H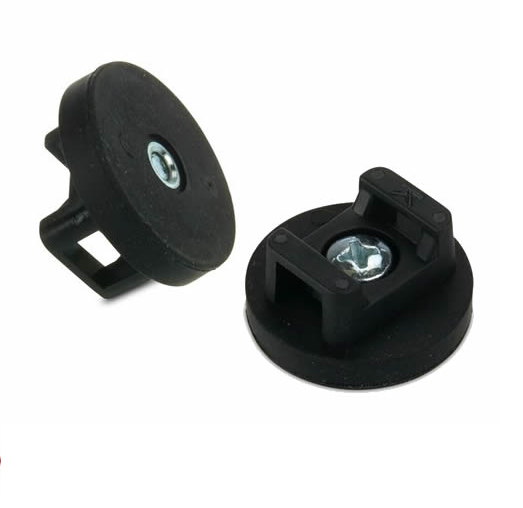 $8.52
buy 10 to 99 items
and
save 9%
$7.53
buy 100+ items
and
save 20%
Rubber Coated Neodymium Pot Magnet - Diameter 31mm x 16mm with Cable Mount
Style
Rare Earth rubber coated pot magnet
Direction of Magnetisation
Axially magnetised
Dimensions
Total Height:16mm, Diameter:31mm
*Measured against up to 10mm mild steel.
Magnetic Product Description:
These popular and super practical magnets are designed for holding materials against a metal surface and are part of the Holding Pot Magnet family. The impressive design of these magnetic cable tie holders includes a rubber-coated surface that protects the Neodymium magnet inside as well as the metal surface it attaches to. The rubber coated exterior surface also means the magnet is highly water-resistant and perfect for those weather exposed outdoor locations. You can protect your backyard or barbeque area in a flash!
The sturdy plastic fitting on top of the magnet is hardwearing and is designed for use with a typical plastic cable tie which will fit neatly under the two raised anchor brackets. This method of attachment is simple and fast. The magnetic cable tie can be installed quickly without the need for tools or fasteners!
Australia wide free standard shipping applies to all online orders over $30!
Use this magnetic cable tie mount product to hang party strip lights, festoon lights or decorations. Really it can be used on just about anything from metal fences, sheds, poles or roof supports. Sometimes it's important to suspend certain materials off the ground where they might become damaged or create a trip hazard.
When you want to hang power cables or garden hose from steel fencing, consider using these handy cable tie magnets, especially if the attachment requirement is only temporary. Train climbing plants and vines to grow over steel pergolas or fences in your garden. You can also easily hang warning signs or advertising in the workplace.
Cable tie mount magnets can convert any steel surface into storage space! Hang tools and equipment from the walls of the machinery shed, workshop or garage.
Cable tie mounted magnets are ideal for outdoor applications.
If you have a work or recreation area that needs protection from the sun you can use cable tie magnets to erect shade cloth. It takes no time at all to set up shade cloth or any other protective screening material! Most blue plastic tarpaulins have eyelets that are ideal for attaching a cable tie magnet.
Much of the popularity of cable tie magnets is due to how easily they can be fitted to another surface or material. Attach the magnet with a cable tie to timber posts or fencing to make them magnetic.
Store metal hand tools and fasteners more conveniently when working in areas where no magnetic surface is available. The rubber coating also makes cable tie magnets popular with 4 wheel drive enthusiasts, campers, caravaners and any one involved with vehicles or transport. The rubber coated magnets can be used to attach anything to a vehicle and won't damage or scratch the paintwork.

Campers and caravaners love the convenience of cable tie holder magnets. They easily attach to vehicles and can be instantly removed when the time comes to move on. Erecting awnings, tents, canopies, clothes lines, lights and power cables around vehicles is so easy with magnetic cable tie holders.
See the entire range of AMF magnetic products with protective coatings
The AMF website has plenty of magnets in every size, material, shape and coating. The Rubber Coated magnets in the catalogue are ideal for protecting delicate or painted surfaces from damage as the magnet is attached or removed. All the magnets with black rubber coatings contain powerful Neodymium disc magnets.
The magnets are arranged in a circular pattern with alternating poles for maximum holding capacity. Some have male thread fitting options while others have female threads or round holes.
Other protective coatings with similar protective or water resistant properties can be found in the Epoxy Coating category, the Teflon Coating category and the Plastic Coating category.
FAQ
How do I use Cable Tie Mount magnets?
Once the magnet is in position on a steel surface you can use the cable tie fitting to mount your cable, hose or wiring to the magnet. This can be a convenient way to declutter work areas or keep outdoor areas at home tidier and better organised. Alternatively, lay out your cable, rope or string lights on the ground and cable tie a magnet to the length at equal intervals. Now the lights or cabling can be secured to metal fencing or other metal structures.