Rubber Coated Neodymium Pot Magnet - Diameter 22mm x 27mm with Rubber-lined P Clamp
Product code: RCND22PR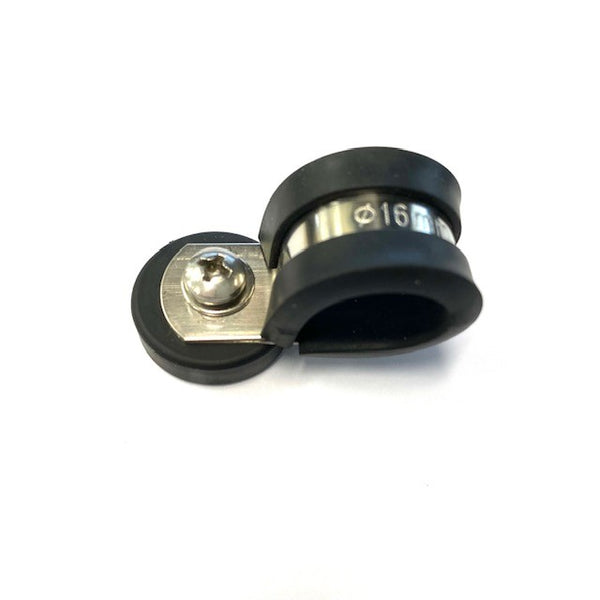 $6.00
buy 10 to 99 items
and
save 10%
$5.33
buy 100+ items
and
save 20%
Rubber Coated Neodymium Pot Magnet - Diameter 22mm x 27mm with Rubber-lined P Clamp
Style
Rare Earth rubber coated pot magnet
Direction of Magnetisation
Axially magnetised
Dimensions
Total Height: 1 1/16" (27mm) x Diameter: 55/64"(22mm)
*Measured against up to 10mm mild steel.
Magnets are a proven way to make a fast and secure bond with metal or steel surfaces. 
This rare-earth cable mount pot magnet has a diameter of 55/64 inch (22mm), a total height of 1 1/16 inch (27mm) with a Rubber-lined P Clamp with a closed-loop of 5/8 inch (16mm). This mounting magnet has a pull force of 11 lbs (5kg). It is identified by the AMF magnet part number RCND22PR.
Online purchases over $100 via the secure AMF website receive free standard shipping 

These innovative and relatively new AMF products are available in a range of sizes and strengths to suit different applications. The magnetic P clamp holder contains strong Neodymium disc magnets that can support considerable weight. The bigger the magnet, the more weight it can hold and these are available in a range of holding strengths.
The magnet attaches quickly and securely to any type of steel or metal surface. The rubber coating around the powerful magnet ensures the surface it attaches to is not scratched or damaged in any way. The clever P clamp mount fitting allows you to attach items securely to the magnet. Keep them up and away from the ground or any areas considered hazardous.