Neodymium Pot Magnet - 60 mm | Eye Bolt
Product code: AMFYPF60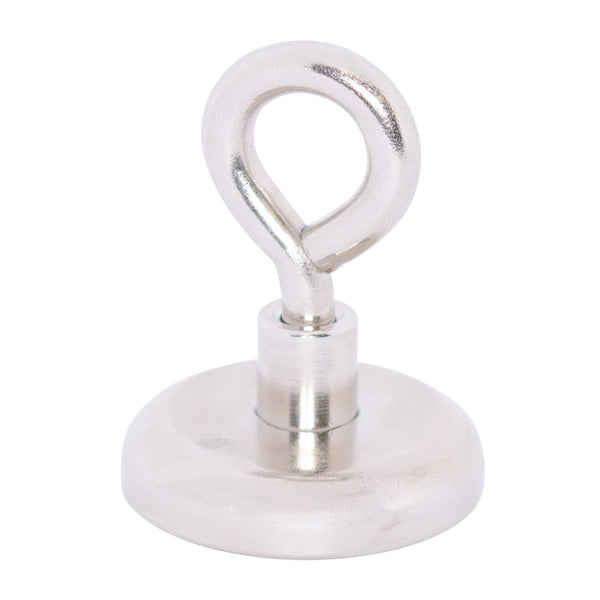 $57.32
buy 10 to 99 items
and
save 19%
$52.33
buy 100+ items
and
save 26%
Neodymium Pot Magnet - 60 mm | Eye Bolt
Style
Neo Pots w/ Eye Bolt
Direction of Magnetisation
Axially magnetized
Dimensions
Height:70 mm, Diameter:60 mm
*Measured against up to 10mm mild steel.
Product Description:
This neodymium magnet with removable eye bolt measures 60 mm (D) x 30 mm (h).
The overall height including the eye bolt is 70 mm (H). The threaded shaft opening is 8 mm (M).
It has a pull force of 113 kg and weighs 282 grams.
About Pot Magnets with Eye Bolts:
These Neodymium pot magnets have a threaded shaft and an attached eye bolt. They have a very strong rare earth magnet set in a mild steel cup for extra protection against chipping or cracking. Due to the protective cover on these magnets, the magnetic force is concentrated on one side only. The threaded eye bolt can be removed.
| | | | | | | | |
| --- | --- | --- | --- | --- | --- | --- | --- |
| ModelNo. | DØ | d2 | M | H | h | Pull force (kg) | Weight (g) |
| AMFYPF16 | 16 | 6 | 4 | 37 | 13 | 5.5 | 11 |
| AMFYPF20 | 20 | 6 | 4 | 37 | 15 | 10 | 21 |
| AMFYPF25 | 25 | 6 | 5 | 42 | 17 | 22 | 37 |
| AMFYPF32 | 32 | 10 | 6 | 47 | 18 | 34 | 56 |
| AMFYPF36 | 36 | 10 | 6 | 47 | 18 | 41 | 68 |
| AMFYPF42 | 42 | 10 | 6 | 47 | 20 | 68 | 97 |
| AMFYPF48 | 48 | 12 | 8 | 70 | 24 | 81 | 97 |
| AMFYPF60 | 60 | 12 | 8 | 70 | 30 | 113 | 282 |
| AMFYPF75 | 75 | 12 | 10 | 98 | 34 | 164 | 560 |