Neodymium Ring - 5 mm x 2 mm x 5 mm | Gold
Product code: 23024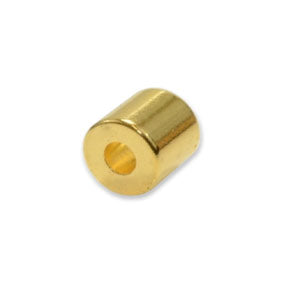 $0.59
buy 10 to 99 items
and
save 15%
$0.49
buy 100+ items
and
save 28%
Neodymium Ring - 5 mm x 2 mm x 5 mm | Gold
Style
Neodymium Ring - Gold
Direction of Magnetisation
Axially magnetized thru the 5 mm
Dimensions
Outside Diameter:5 mm, Inside Diameter:2 mm, Thickness:5 mm
*Measured against up to 10mm mild steel.
Product Description:
This small rare earth ring magnet measures 5 mm (OD) x 2 mm (ID) x 5 mm (T). 
It has a gold coating and a pull force of 900 grams. GRADE N38.
IMPORTANT: These magnets are a swallowing hazard and are not suitable for children.
Uses for small ring magnets:
These gold colored neodymium ring magnets are very cost effective and provide an attractive fixing solution for a variety of applications. Although small, these magnets have a pull force of 900grams and are great for tasks like securing point of sale displays at the front desk. These ring magnets are a stylish and versatile method for pinning and holding. Magnetism is a perfect fastening method for changing, adding and removing posters and sporting memorabilia, and are great in commercial environments where stock and trading conditions vary as a matter of course. These tiny magnets are popular in commercial construction and in the electrical and electronics manufacturing sectors. The packaging industry makes boxes, folders and document sleeves for workplace applications using these gold ring magnets as stylish closures and connectors. When embedded in timber, stone, ceramics and plastic these gold ring magnets offer a stylish, sophisticated solution.
100%
of reviewers would recommend this product to a friend
magnets
wonderful done the job perfect