Neodymium Ring - 35 mm x 6.15 mm x 10 mm
Product code: 23003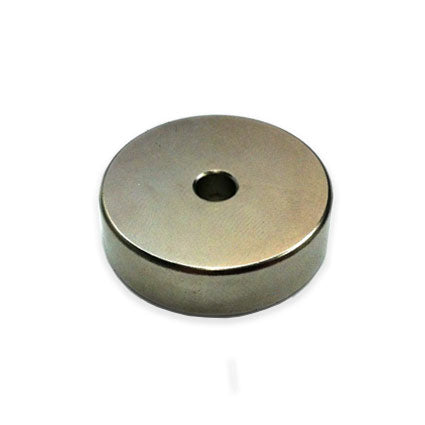 $17.91
buy 10 to 99 items
and
save 11%
$14.47
buy 100+ items
and
save 28%
Neodymium Ring - 35 mm x 6.15 mm x 10 mm
Direction of Magnetisation
Axially magnetized thru the 10 mm
Dimensions
Outside Diameter:35 mm, Inside Diameter:6.15 mm, Thickness:10 mm
*Measured against up to 10mm mild steel.
Product Description:
This very strong neodymium ring magnet measures 35 mm (OD) x 6.15 mm (ID) x 10 mm (T).
It has a pull force of 22.5 kg. GRADE N38.
Uses for ring magnets:
Strong ring magnets like these, 35 mm x 10 mm with a pull force of 22.5 kg are used to help regulate the movement, release, and re-engagement of moving parts. The amount of magnetic force needs to be such that it can contain or compress the moving parts, but not so strong as to suppress movement necessary for efficient mechanical function. The known pull force or magnetic strength of a particular magnet allows engineers and others to design sophisticated equipment that is reliable and durable.
100%
of reviewers would recommend this product to a friend
Great
Just what was needed. Very powerful
excellent
Great for use in my workshop and also for finding studs in a wall when metal nails are located, you know you have found a stud.