Neodymium Ring - 19mm x 8mm x 4mm
Product code: 23008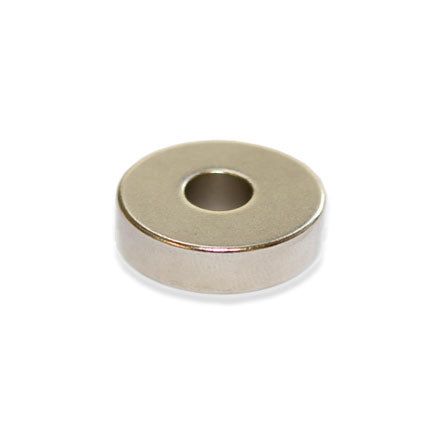 $4.27
buy 10 to 99 items
and
save 16%
$3.38
buy 100+ items
and
save 33%
Neodymium Ring - 19mm x 8mm x 4mm
Style
Rare Earth Ring magnet
Direction of Magnetisation
Axially magnetised thru the 4mm
Dimensions
Outside Diameter:19mm, Inside Diameter:8mm, Thickness:4mm
*Measured against up to 10mm mild steel.
Product Description:
This rare earth ring magnet has an outside diameter of 19mm, an inside diameter of 8mm and a thickness of 4mm. It is identified by AMF Magnets part number 23008.
Uses for our rare earth ring magnets:
In the rail industry, neodymium ring magnets are used extensively within wheel assemblies, braking systems, and traction components. Magnets are also used extensively in the lifting and depot equipment in the rail workshops. Ring magnets used on an axle or rod with stationary and moving parts are used to help regulate movement which helps ensure the smooth operation of rail travel.
Smooth operation also reduces wear and tear on the wheels and brakes and rail tracks, as well as reduces noise. The known pull force of magnets allows engineers to determine release points within the system to control the transfer of force or reduce the amount of force being directly transferred through the various assemblies.
Magnets can also be used to reduce the wild forces that swaying carriages moving at speed are able to generate. Magnetic engagement between the individual carriages allows train engineers and builders to determine at which point a carriage should release. Magnets have always, and still are, helping our trains run smoother, safer and faster for longer!
100%
of reviewers would recommend this product to a friend
Recommend
Very good quality, reasonable prices.