Neodymium Pot Magnet - 32 mm x 8 mm | Straight Hole
Product code: AMFYPB32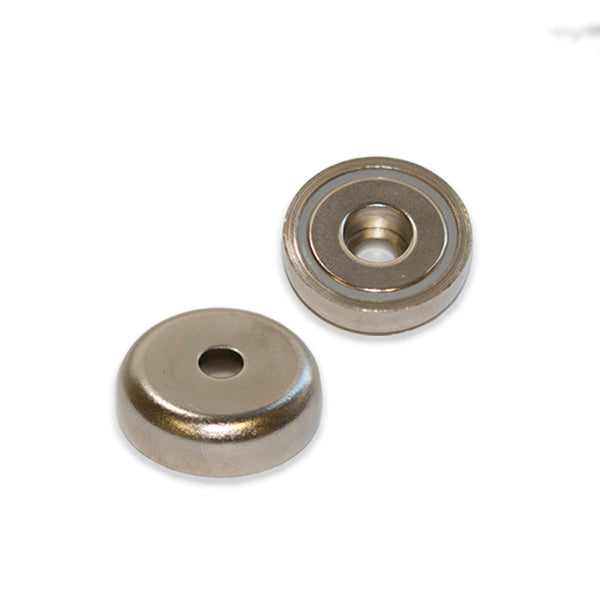 $5.54
buy 10 to 99 items
and
save 24%
$4.98
buy 100+ items
and
save 31%
Neodymium Pot Magnet - 32 mm x 8 mm | Straight Hole
Style
Neo pot w/ straight hole
Direction of Magnetisation
Axially magnetized thru the 8 mm
Dimensions
Height:8 mm, Diameter:32 mm
*Measured against up to 10mm mild steel.
Product Description:
This neodymium rare earth pot magnet measures 32 mm (D) x 8 mm (H).
It has a straight center hole with an inside diameter of 5.5 mm and an internal flange hole of 9 mm.
It weighs 36 grams and has a pull force of 23 kg.
About pot (mounting) magnets:
Neodymium mounting magnets are high strength rare earth magnets in a mild steel cap for extra protection against damage. A bolt can be used to position this rare earth mounting magnet. Due to the protective cover on these pot magnets, they are a single sided magnet.
ModelNo.
DØ
D1Ø
D2Ø
H
Pull force (kg)
Weight (g)
AMFYPB16
16
3.5
6.5
5
4
6
AMFYPB20
20
4.5
8
7
6
12
AMFYPB25
25
5.5
9
8
14
23
AMFYPB32
32
5.5
9
8
23
36
AMFYPB36
36
6.5
11
9
29
50
AMFYPB42
42
6.5
11
9
32
73