Neodymium Pot Magnet - 42 mm | Female Thread
Product code: AMFYPD42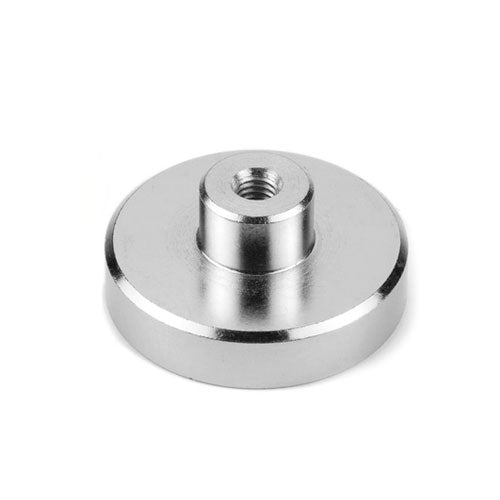 $12.97
buy 10 to 99 items
and
save 22%
$10.66
buy 100+ items
and
save 36%
Neodymium Pot Magnet - 42 mm | Female Thread
Style
Neo Pot Female Thread
Direction of Magnetisation
Axially magnetized thru the 9 mm
*Measured against up to 10mm mild steel.
Product Description:
This neodymium magnet with female thread shaft measures 42 mm (D) x 9 mm (h). 
The overall height including the external shaft is 20 mm (H). The shaft opening is 6 mm (M).
It has a pull force of 68 kg and weighs 87 grams.
About Neodymium Pot or Cup Magnets:
Neodymium pot magnets, also called pot magnets, or mounting magnets, are high strength rare earth magnets set in a steel cup for extra protection against damage. The steel cup offers protection for the magnet and concentrates the magnetic force on one side. This pot magnet has a female threaded shaft.