Neodymium Pot Magnet - 75 mm x 18 mm | Countersunk
Product code: AMFYPA75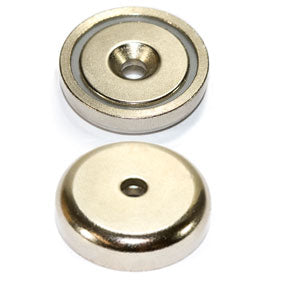 $65.15
buy 10 to 99 items
and
save 23%
$55.63
buy 100+ items
and
save 35%
Neodymium Pot Magnet - 75 mm x 18 mm | Countersunk
Style
Neodymium Pot C/Sunk
Direction of Magnetisation
Axially magnetized thru the 18 mm
Dimensions
Height:18 mm, Outside Diameter:75 mm
*Measured against up to 10mm mild steel.
Product Description:
This neodymium pot magnet measures 75 mm (D) x 18 mm (H).
The countersunk hole is 10.5 mm (D).
It has a pull force of 162 kg and weighs 488 grams.
About countersunk pot magnets:
This powerful neodymium countersunk pot magnet with a 162 kg pull force is the strongest magnet in this category. These super strong magnets are often requested by customers who need magnets for specific industrial scale applications. The high strength magnet is encased in a mild-steel nickel coated pot and has a countersunk hole. These magnets are used for lifting, holding and securing heavy objects, such as machinery and equipment. While magnets are a different kind of fastening system with unrivaled capabilities they are surprisingly cost effective. Steel, stone, concrete and solid timber, just some of the materials used with magnets of all kinds, for fixing, holding, releasing, and re-engaging.