Neodymium Pot Magnet - 60 mm x 15 mm | Countersunk
Product code: AMFYPA60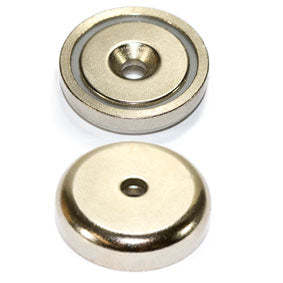 $51.55
buy 10 to 99 items
and
save 25%
$48.00
buy 100+ items
and
save 30%
Neodymium Pot Magnet - 60 mm x 15 mm | Countersunk
Style
Neodymium Pot C/Sunk
Direction of Magnetisation
Axially magnetized thru the 15 mm
Dimensions
Height:15 mm, Outside Diameter:60 mm
*Measured against up to 10mm mild steel.
Product Description:
This neodymium pot magnet measures 60 mm (D) x 15 mm (H).
The countersunk hole is 8.5 mm (D).
It has a pull force of 112 kg and weighs 252 grams.
Product Information:
This neodymium pot is ideal for manufacturing exhibition stands and custom furniture. It has a high strength magnet in a mild-steel nickel-coated pot with a countersunk hole. With a pull force of 112 kg these countersunk pot magnets provide more secure lifting than chains, slings and ropes. When the going gets heavy, lighten the load with magnetic force. These countersunk pot magnets are used for industrial applications in cranes, hoists and winches, and are also often put to use in hospitals, home care aids and aged care facilities.