Neodymium Pot Magnet - 42 mm x 9 mm | Countersunk
Product code: AMFYPA42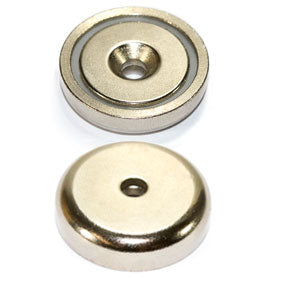 $15.27
buy 10 to 99 items
and
save 25%
$12.73
buy 100+ items
and
save 38%
Neodymium Pot Magnet - 42 mm x 9 mm | Countersunk
Style
Neodymium Pot C/Sunk
Direction of Magnetisation
Axially magnetized thru the 9 mm
Dimensions
Height:9 mm, Outside Diameter:42 mm
*Measured against up to 10mm mild steel.
Product Description:
This rare earth pot magnet measures 42 mm (D) x 9 mm (H). The countersunk hole is 6.5 mm (D).
It has a pull force of 37 kg and weighs 76 grams.
About rare earth countersunk pot magnets:
Countersunk mounting magnets are suitable for attaching objects to walls, ceilings. It has a countersunk hole and a high strength magnet in a mild-steel nickel coated pot. These popular neodymium pot magnets are used by builders, designers, and tradespeople for a wide variety of applications throughout the design and building industries; for example, balustrades on staircases, benchtops, appliances, secret fixing, soft close drawers, seamless cabinetry, discreet hanging, low pull-force release and re-engagement properties.