Neodymium Disc - 10 mm x 2 mm | Self-Adhesive
Product code: 61004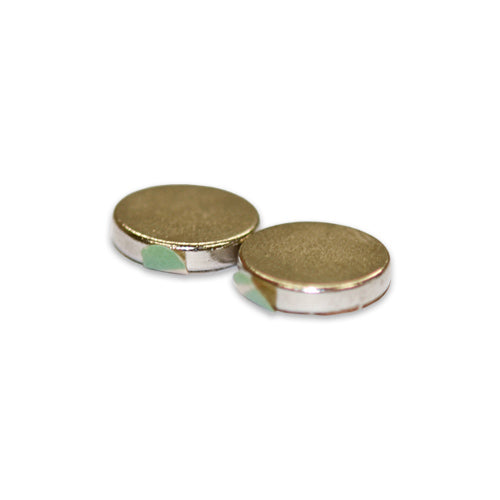 $1.81
buy 10 to 99 items
and
save 14%
$1.44
buy 100+ items
and
save 31%
Neodymium Disc - 10 mm x 2 mm | Self-Adhesive
Style
Neodymium Disc Self-Adhesive
Dimensions
Height:2 mm, Diameter:10 mm
*Measured against up to 10mm mild steel.
Product Description:
**Sold in Pairs. This pair of neodymium disc magnets measures 10 mm (D) x 2 mm (H). They have a peel-off adhesive backing on the non-magnetic side. GRADE N35.
Product Information:
When you need to stick or attach two non-metallic surfaces together ie: folders or brochures, this pair of rare earth disc magnets is very handy. These magnets can  be used for adhering different objects to various surfaces at your office, warehouse or home.  When attaching ensure the surface is clean and dry for best results. Application is not recommended if the surface temperature is below 10° C because the adhesive will fail.
Five Stars
Awesome magnets, so good I bought another set.
Awesome.
Great strength, they did the job perfectly.
Lots of stars
Great, strong, small magnets. Used as closure on an earring travel box. one pair not quite enough, three pairs too much, two pairs (would have been) perfect!
Great service.
Thanks
Excellent!
Excellent little powerful magnets, worked a treat! Self adhesive was not all that great but little super glue and you're laughing.
AMF Reply: Great to hear Scott! Yes, depending on what surface you're using these self-adhesive magnets on, super glue or liquid nails are great for increased adhesion.