Neodymium Disc Magnet - 39mm x 18mm | N45H | High Temperature
Product code: 20001E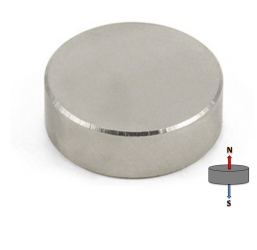 $41.55
buy 10 to 99 items
and
save 18%
$35.22
buy 100+ items
and
save 30%
Neodymium Disc Magnet - 39mm x 18mm | N45H | High Temperature
Grade
N45H (High Temp up to 120C)
Direction of Magnetisation
Axially through height
Dimensions
Height:18mm, Diameter:39mm
*Measured against up to 10mm mild steel.
Magnetic Disc 39mm x 18mm Product Description:
This neodymium magnetic disc has a diameter of 39mm and a height of 18mm. It has a magnetic flux reading of 4646Gauss and a pull force of 45.85 kilos. It is identified by the AMF magnet part number 20001E.
Uses for our Neodymium Rare Earth Disc Magnets:
Neodymium Disc magnets have flat, round pole areas that make them ideal for holding purposes. This extremely strong disc magnet with a thickness of 18mm projects a magnetic field that is able to penetrate materials like cloth, cardboard, vinyl, or acrylics. It can then bond with either metal or another correctly aligned magnet placed on the other side of that material. Printing companies and many other producers of retail merchandise find the strength and non-invasive nature of Neodymium magnets to make them a convenient tool for the creation of advertising and signage products. Magnets in strategic locations can secure unrolled sheeting in a flat position while cutting or printing takes place and without creasing or piercing the finished product.