Neodymium Disc Magnet - 30mm x 10mm | N45H | High Temperature
Product code: 20002B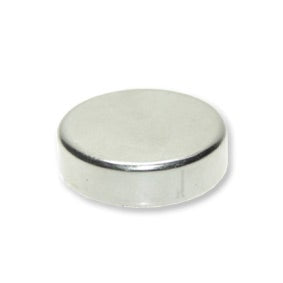 $29.66
buy 10 to 99 items
and
save 15%
$23.44
buy 100+ items
and
save 33%
Neodymium Disc Magnet - 30mm x 10mm | N45H | High Temperature
Style
Rare Earth Disc magnet
Grade
N45H (High Temp up to 120C)
Direction of Magnetisation
Axially magnetised
Dimensions
Height:10mm, Diameter:30mm
*Measured against up to 10mm mild steel.
Magnetic Product Description:
These rare earth disc magnets have a diameter of 30mm and a height of 10mm. They have a magnetic flux reading of 3800 Gauss and a pull force of 22.95 kilos. It is identified by the AMF magnet part number 20002B.
Uses for our rare earth disc magnets:
Entities supplying engineering equipment to offshore oil and gas platforms make sure they pack plenty of these neodymium disc 30mmx10mm magnets for the long trip over the ocean. They deliver miles of steel wire ropes, chains, slings and associated fittings for lifting, carrying and holding along with everything else a huge industrial platform may need in the way of engineering kit. Wherever steel products go, magnets are right alongside them, including these versatile all-rounders. Valued for their fastening, hold and release and connective tissue properties, magnets help keep these drilling and pumping platforms safe in one of the most unforgiving environments on earth: the middle of the ocean.
Apparatus involved in lifting holding and releasing of mining and pumping equipment, can be found in other industries, but apparatus for holding and releasing the off shore rig itself, sometimes anchored to the ocean floor, and is a scope of another order and magnitude. Steel wire ropes as thick as a man's torso, single drop forged simple hooks the size of a double bed and as thick as the mattress.
As well as applications throughout the offshore platforms operations, magnets are used in conjunction with fail safe devices embedded in some of this extreme scale kit and equipment. In an emergency, these fail safe devices, with the aid of magnets, release their hold on the piece of kit at a pre-determined point.
That is, the apparatus will fail under certain stresses, but at place in the apparatus of the engineer's choosing. The engineers cannot afford chance to determine where the break in the apparatus will occur in the event of an emergency. This mechanism allows for the sacrifice one part of the apparatus, (the hook) to preserve another (the crane).
Magnets with their trusted and accurate pull force properties allows the engineer to determine how much force needs to be applied to the apparatus to trigger the fail-safe device. This principle of built in redundancy under certain conditions, cyclonic weather for instance, applies across the fixing holding and carrying protocols on off shore oil and gas rigs. Miners operating deep in the ocean hundreds of miles from solid ground require the highest levels of vigilance when managing their operations. With the help of these neodymium disc 30mmx10mm magnets, and others like them, offshore mining can remain a viable and safe form of resource capture.
Today food waste management is more than just scraping the dinner tables leftovers into the dog's dish. Today many businesses in hospitality and food markets utilize machines to process discarded food for recovery as a clean source of organic fertilizer and for electricity generation. Companies supplying these machines use neodymium-disc-30mm-x-10mm magnets throughout their production chain in the delivery of this very useful service.