Neodymium Disc Magnet - 22mm x 15mm | N45H | High Temperature
Product code: 20010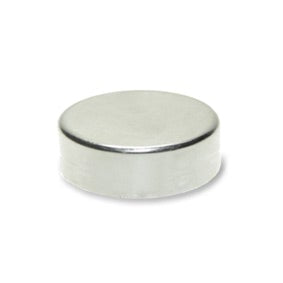 $18.69
buy 10 to 99 items
and
save 13%
$14.83
buy 100+ items
and
save 31%
Neodymium Disc Magnet - 22mm x 15mm | N45H | High Temperature
Style
Rare Earth Disc Magnet
Grade
N45H (High Temp up to 120C)
Direction of Magnetisation
Axially magnetised
Dimensions
Height:15mm, Diameter:22mm
*Measured against up to 10mm mild steel.
Magnetic Product Description:
This incredibly strong N45H grade Neodymium Disc Magnets have an impressive pull force of 18.55kg! Considering the small size of 22mm in diameter and 15mm in height, these rare earth discs are so strong due to their high grade of N45H! The magnet itself is identified on our website as part number 20010. These discs are axially magnetised, meaning the north and south poles are located on the flat surfaces, not the curved edges, and it is these surfaces that will have the stronger pull force.
Uses for our rare earth disc magnets:
Due to the high strength of such a small magnet, these N45H Neodymium Disc Magnets has incredible versatility and can be used for a large number of applications. They will maintain their magnetic pull permanently unless they are damaged by being exposed to intense temperatures or water. These Rare Earth Discs are often used for the purpose of holding, lifting and metal separation, but can also be used in the collection of small ferrous metallic swarf or water conditioning. Many people use them as stud finders as their strong pull force allows for their magnetic field to penetrate the wall surface and detect the studs behind them. It is this versatility that makes these N45H grade Neodymium Discs some of the most popular magnets in our stock!