Neodymium Disc Magnet - 18mm x 15mm | N45H | High Temperature
Product code: 20019A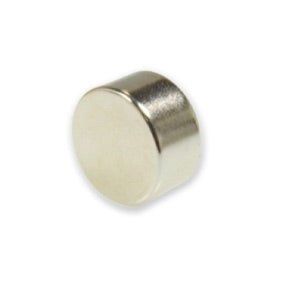 $15.80
buy 10 to 99 items
and
save 15%
$13.31
buy 100+ items
and
save 28%
Neodymium Disc Magnet - 18mm x 15mm | N45H | High Temperature
Style
Rare Earth Disc magnet
Grade
N45H (High Temp up to 120C)
Direction of Magnetisation
Axially magnetised
Dimensions
Height:15mm, Diameter:18mm
*Measured against up to 10mm mild steel.
Magnetic Product Description:
This rare earth disc has a diameter of 18mm and a height of 15mm. It has a magnetic flux reading of 5874 Gauss and a pull force of 13.33kg. It is identified by the AMF magnet part number 20019A.
Uses for our rare earth disc magnets:
This 18mm x 15mm disc magnet is a popular size with furniture makers and carpenters. The slim 15mm thickness makes this disc ideal for countersinking into doors and cupboards for an elegant and simple closing mechanism. Embedded into frames and doors for a flush and streamlined finish, furniture makers have long adopted magnets as an effective way of keeping modular furniture held together and at the same time be adjustable when required.
These strong Neodymium discs are also used for manufacturing and industrial applications such as metal debris separation, building and construction jigs, tool holders and stud location tools.