Neodymium Disc - 6 mm x 2 mm | Gold
Product code: 20076A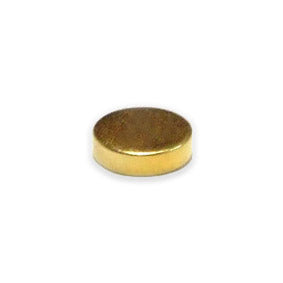 $0.61
buy 100 to 999 items
and
save 19%
$0.49
buy 1000+ items
and
save 34%
Neodymium Disc - 6 mm x 2 mm | Gold
Direction of Magnetisation
Axially magnetized
Dimensions
Height:2 mm, Diameter:6 mm
*Measured against up to 10mm mild steel.
Product Description:
This gold colored neodymium magnetic disc measures 6 mm (D) x 2 mm (H). It has a magnetic flux reading of 3495 Gauss and a pull force of 540 grams. GRADE N38.
Product Uses:
Brochure closures, crafts and hobbies, displaying photos, fridge magnets, magnet therapy, magic tricks.