Neodymium Disc - 6mm x 2mm Gold-Marked
Product code: 20076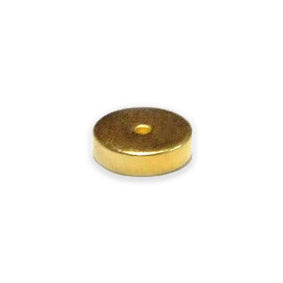 $0.62
buy 100 to 999 items
and
save 17%
$0.52
buy 1000+ items
and
save 31%
Neodymium Disc - 6mm x 2mm Gold-Marked
Dimensions
Height:2mm, Diameter:6mm
*Measured against up to 10mm mild steel.
Magnetic Product Description:
This rare earth disc has a diameter of 6mm and a height of 2mm. It has a magnetic flux reading of 3452 Gauss and a pull force of 540 grams. It is identified by the AMF magnet part number 20076.
Uses for our rare earth disc magnets:
Metal separation, picking up nails & screws, water conditioning, building generators, magnetic stirrers, metal detectors, tool knife holders, holding, stud finders, magnetic therapy, magic tricks, brochure closures.