Neodymium Disc - 25 mm x 2 mm | N42
Product code: 20007A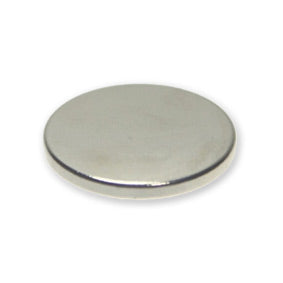 $3.16
buy 10 to 99 items
and
save 21%
$2.74
buy 100+ items
and
save 32%
Neodymium Disc - 25 mm x 2 mm | N42
Direction of Magnetisation
Axially magnetized
Dimensions
Height:2 mm, Diameter:25 mm
*Measured against up to 10mm mild steel.
Product Description:
This super thin magnetic disc measures 25 mm (D) x 2 mm (H). It has a magnetic flux reading of 995 Gauss and a pull force of 3.3kg. The north pole is marked by a dimple.
Uses for Magnetic Discs:
These super thin neodymium disc magnets are often used in product displays, retail signage, fixtures and installations They are durable, versatile magnets which engage and disengage easily and cleanly.