Neodymium Disc - 25 mm x 2.5 mm
Product code: 20007.5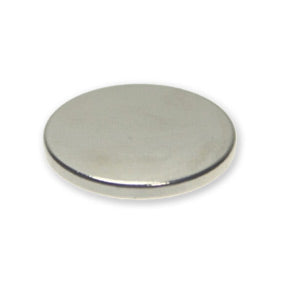 $3.31
buy 10 to 99 items
and
save 17%
$2.79
buy 100+ items
and
save 30%
Neodymium Disc - 25 mm x 2.5 mm
Direction of Magnetisation
Axially magnetized
Dimensions
Height:2.5 mm, Diameter:25 mm
*Measured against up to 10mm mild steel.
Product Description:
This very thin magnetic disc measures 25 mm (D) x 2.5 mm (H). It has a magnetic flux reading of 1235 Gauss and a pull force of 4 kg. The north pole is marked by a dimple.
About Magnetic Discs:
These super lightweight magnets are thin but powerful. They fasten and release easily, without tugging or tearing, so they are perfect for use in clothing or wearable items because they don't scratch or irritate the skin.
100%
of reviewers would recommend this product to a friend
Great
Perfect for the job. Good delivery time.