Neodymium Cylinder - 4 mm x 10 mm
Product code: 21052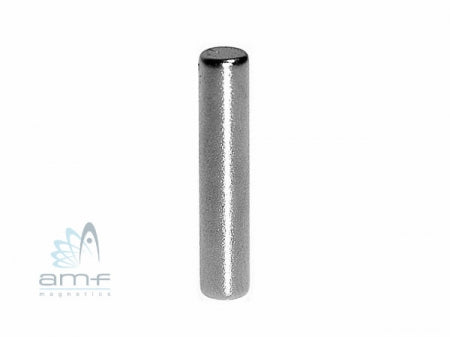 $0.77
buy 10 to 99 items
and
save 35%
$0.64
buy 100+ items
and
save 45%
Neodymium Cylinder - 4 mm x 10 mm
Direction of Magnetisation
Axially magnetized
Dimensions
Height:10 mm, Diameter:4 mm
*Measured against up to 10mm mild steel.
Product Description:
This rare earth cylinder measures 4 mm (D) x 10 mm (H). It has a magnetic flux reading of 6178 Gauss and a pull force of 0.580 kg.
About rare earth cylinder magnets:
These magnets are useful in fields such as radio communications and other hi-tech communication devices. Neodymium-cylinder magnets also find applications in gold-digging and other metal detection industries. Mining companies use these magnets with their modern technologies in some of the remotest and most challenging environments on earth. Neodymium cylinders are also used in the industrial printing process.