Neodymium Ovoid - 62mm x 29.1mm x 5.8mm
Product code: 22001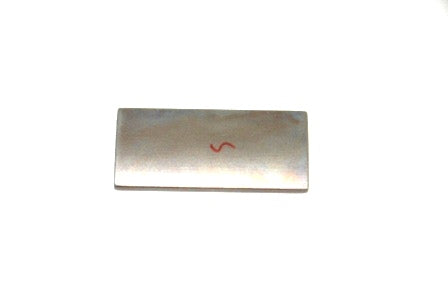 $17.70
buy 10 to 99 items
and
save 17%
$15.70
buy 100+ items
and
save 26%
Neodymium Ovoid - 62mm x 29.1mm x 5.8mm
Style
Neodymium Block - Ovoid
Direction of Magnetisation
Axially magnetized
Dimensions
Width:29.1 mm, Length:62 mm, Thickness:3 mm - 5.8 mm
Product Description:
A partial ovoid block magnet measuring 62 mm long, 29.1 mm wide, with an ovoid thickness from 3 mm to 5.8mm. The coating is phosphorous.
About this Ovoid Magnet:
This custom designed magnet is a component in an old style film projector used in the past. Magnets like these neo blocks helped to regulate the speed at which individual movie frames pass over the projector's light beam. This is vital because images moving too fast or too slow disorient the viewer. These old movie projectors are still used today and we believe there are several hundred in operation worldwide.