Neodymium Block - 25 mm x 12.5 mm x 6.5 mm
Product code: 22018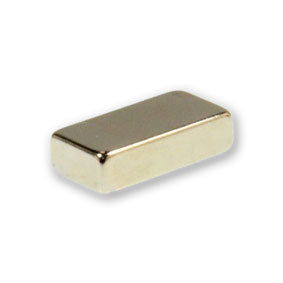 $4.21
buy 10 to 99 items
and
save 24%
$3.90
buy 100+ items
and
save 29%
Neodymium Block - 25 mm x 12.5 mm x 6.5 mm
Direction of Magnetisation
Axially magnetized
Dimensions
Width:12.5 mm, Length:25 mm, Height:6.5 mm
*Measured against up to 10mm mild steel.
Product Description:
This Neodymium magnetic block measures 25 mm (L) x 12.5 mm (W) x 6.5 mm (H).
It has a magnetic flux reading of 3644 Gauss and a pull force of 8 kg. GRADE N38.
Uses for block magnets:
Magnetic blocks are used in many different industries such as design, advertising, engineering, manufacturing, printing, film, science, construction, as well as for multiple commercial and industrial applications. Our magnetic blocks are suited to a wide range of applications, including magnetic separators in the food industry, flow control systems and water conditioning to name a few.
100%
of reviewers would recommend this product to a friend
Strong little buggers
Good product quick service/delivery
Cheers
Reviewed by Promotechnics
I recommend this product
Mascot company
We use magnets sometimes to hold on certain parts of a costume, AMF were a great help and the magnets work really well.
Perfect for my requirements
I have an '80's campervan that has a rear tent which "hugs" the rear door. Over the years, the elasticized seam of the canvas has deteriorated and therefore it slips a bit. I was brainstorming for a simple solution with a friend on my last camping trip. He suggested magnets.
Best idea ever!!
An inexpensive, easy and effective solution !