Neodymium Block - 20 mm x 12.5 mm x 3.3 mm
Product code: 22022B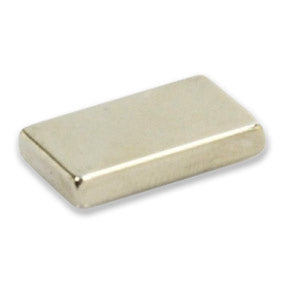 $4.67
buy 10 to 99 items
and
save 17%
$3.91
buy 100+ items
and
save 30%
Neodymium Block - 20 mm x 12.5 mm x 3.3 mm
Direction of Magnetisation
Axially magnetized
Dimensions
Width:12.5 mm, Length:20 mm mm, Height:3.3 mm
*Measured against up to 10mm mild steel.
Product Description:
This neodymium block magnet measures 20 mm (L) x 12.5 mm (W) x 3.3 mm (H). It has a flux reading of 2302 Gauss and a pull strength against 3 mm mild steel of 3.9 kg. GRADE N38
Uses for neodymium block magnets:
A handy size for a multitude of uses. Ideal for the hobbyist and handyman.