Ceramic Ring Magnet - 32 mm x 19 mm x 7 mm
Product code: 13060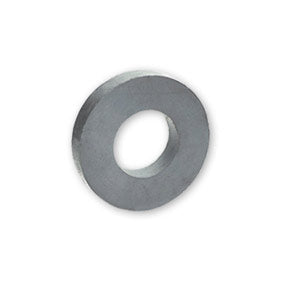 $4.00
buy 100 to 999 items
and
save 18%
$3.00
buy 1000+ items
and
save 39%
Ceramic Ring Magnet - 32 mm x 19 mm x 7 mm
Direction of Magnetisation
Axially magnetized thru the 7mm
Dimensions
Outside Diameter:32mm, Inside Diameter:19mm, Thickness:7mm
*Measured against up to 10mm mild steel.
Product Description:
This ceramic/ferrite ring magnet has an outside diameter of 32 mm, an inside diameter of 19 mm, and a thickness of 7 mm. It has a pull force of 1.4 kg.
About ceramic ring magnets:
Our ceramic/ferrite ring magnets are often used in loudspeakers and also in resonance imaging and torque drives, also hobbies, souvenirs, fridge magnets and whiteboard magnets.