Ceramic Pot Magnet - 40 mm x 8 mm
Product code: 89016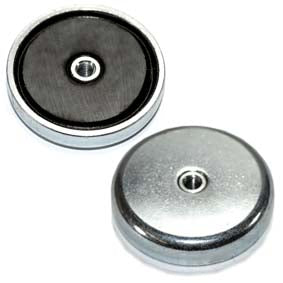 $6.24
buy 10 to 99 items
and
save 22%
$5.51
buy 100+ items
and
save 31%
Ceramic Pot Magnet - 40 mm x 8 mm
Direction of Magnetisation
Axially magnetized thru the 8mm
*Measured against up to 10mm mild steel.
Product Description:
This ceramic ferrite pot magnet measures 40 mm (D) x 8 mm (H) with a pull force of 7 kg.
It has an 8.6 mm magnet bore and a M5 thread pot bore.
Uses for ceramic (ferrite) pot magnets:
These ceramic ferrite pot magnets are encased in a mild steel casing and exert a powerful 7 kg pull force. This permanent and removable magnet has a threaded void at the center which provides plenty of options in the workshop for secure hold and clamp functions while components on workbenches undergo alteration or manufacture. The threaded void allows these pot magnets to be affixed to non-magnetic surfaces with a screw, bolt or rivet. Once in place these magnets can be used to hold or suspend tools and materials on vertical surfaces for an orderly workspace, simple storage and easy retrieval. With no moving parts this ceramic pot magnet requires no maintenance beyond ensuring the magnet is clean before use.
| | | | | | | | |
| --- | --- | --- | --- | --- | --- | --- | --- |
| ModelNo. | D | d1 | Magnet Bore | Pot Bore | H | Pull force | Weight (g) |
| 89016 | 40 |   | 8.6mm | M5 thread | 8 | 7 Kg | 0.0950 |
| 89017 | 25 |   |  C/sunk | 4.8 | 8 |   | 0.0170 |
| 89018 | 32 |   |  C/sunk | 5.8 | 7 |   | 0.0280 |
| 89020 | 55 |   | 22mm | 4.6 | 11 | 12 Kg | 0.0600 |
| 89030 | 88 |   | 32mm | 13.6 | 18.5 | 30 Kg | 0.0700 |