Ceramic Pot Magnet - 32 mm x 7 mm | Countersunk
Product code: 89018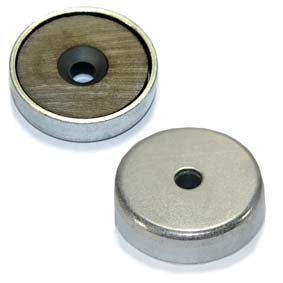 $4.77
buy 10 to 99 items
and
save 18%
$4.04
buy 100+ items
and
save 31%
Ceramic Pot Magnet - 32 mm x 7 mm | Countersunk
Style
Ceramic Pot Magnet countersunk
Direction of Magnetisation
Axially magnetized thru the 7 mm
Product Description:
This ceramic ferrite pot magnet measures 32 mm (D) x 7 mm (H).
It has a countersunk magnet bore and a 5.8 mm pot bore.
Uses for ceramic (ferrite) pot magnets:
Our ceramic pot magnets have a mild steel casing over a ferrite magnet with a countersunk central hole for fixing a bolt, rivet or screw, for attaching to non-magnetic surfaces. With no moving parts this ferrite pot magnet requires no maintenance beyond ensuring the magnet is clean before use.
| | | | | | | | |
| --- | --- | --- | --- | --- | --- | --- | --- |
| ModelNo. | D | d1 | Magnet Bore | Pot Bore | H | Pull force | Weight (g) |
| 89016 | 40 |   | 8.6mm |   M5 thread | 8 | 7 Kg | 0.0950 |
| 89017 | 25 |   |  C/sunk | 4.8 | 8 |   | 0.0170 |
| 89018 | 32 |   |  C/sunk | 5.8 | 7 |   | 0.0280 |
| 89020 | 55 |   | 22 | 4.6 | 11 | 12 Kg | 0.0600 |
| 89030 | 88 |   | 32 | 13.6 | 18.5 | 30 Kg | 0.0700 |