Ferrite Disc Magnet - 15mm x 2mm (Single-Sided)
Product code: 10112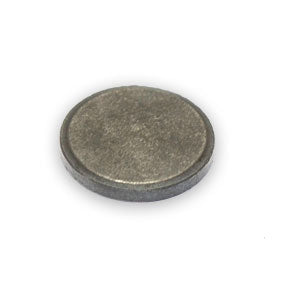 Ferrite Disc Magnet - 15mm x 2mm (Single-Sided)
Style
Ferrite Disc magnet (Single-Sided)
Direction of Magnetisation
Axially magnetised thru the 2mm
Dimensions
Thickness:2mm, Diameter:15mm
*Measured against up to 10mm mild steel.
Magnetic Product Description:
This ferrite disc magnet has a diameter of 15mm and a thickness of 2mm. It has a magnetic flux reading of 998 Gauss, a Y10 Isotropic grade and a pull force of 60 grams. It is identified by the AMF magnet part number 10112.
Uses for our ferrite disc magnets:
When assembling products an epoxy glue is recommended for ferrites once the bonding surface has been cleaned and dried. Some applications using ferrite disc magnets are fridge magnets and whiteboard magnets.