Ferrite Block - 25.4mm x 10mm x 5mm (L) - Magnetised thru Length
Product code: 12090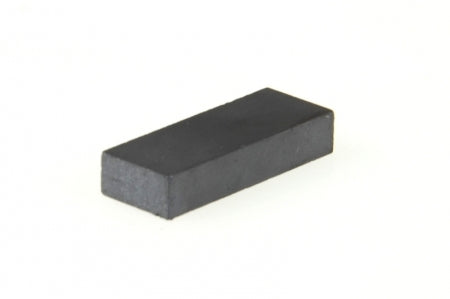 $1.10
buy 1000 to 9999 items
and
save 21%
$0.89
buy 10000+ items
and
save 37%
Ferrite Block - 25.4mm x 10mm x 5mm (L) - Magnetised thru Length
Style
Ferrite Block Magnet
Direction of Magnetisation
Magnetised thru the 10mm length
Dimensions
Width:25.4mm, Length:10mm, Height:5mm
*Measured against up to 10mm mild steel.
Magnetic Product Description:
This ferrite block magnet has a 10mm length, a 25.4mm width and a height of 5mm. It is identified by the AMF magnet part number 12090.
Uses for our ferrite block magnets:
Our large ferrite block magnets are often used in sweeping and separation applications. Smaller ferrite block magnets are commonly used as sensors and in various hand crafts. They're also popular for use in school science projects as they are less expensive and less dangerous than Neodymium magnets.