Neodymium Mounting Magnet - 88 mm x 8 mm | Rubber Coated
Product code: RCND88F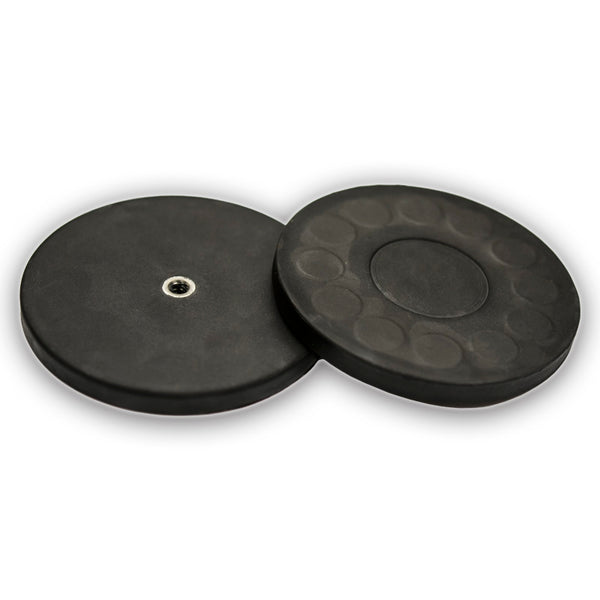 $19.07
buy 10+ items
and
save 17%
Neodymium Mounting Magnet - 88 mm x 8 mm | Rubber Coated
Style
Mounting Magnet F-thread
Coating
Santoprene Rubber
Direction of Magnetisation
Axially magnetized through the 8 mm
Dimensions
Height:8.3 mm, Diameter:88 mm
*Measured against up to 10mm mild steel.
Product Description:
This neodymium rare earth mounting magnet measures 88 mm (D) x 8.3 mm (H). It has a center hold with an M6 female thread. The Santoprene rubber coating protects the surface. This rare earth magnet has a pull force of 42 kg and weighs 210 grams. GRADE N35.
About mounting magnets:
Our rare earth mounting magnets are designed for screwing objects into. These Neodymium mounting magnets are high strength rare earth magnets in a durable Santoprene rubber coating which protects against delicate surface areas. These magnets are often used as anchor points. Sections of plywood are screwed into the magnet's central thread, closing the door or window void. Opening and closing the void for the duration can only be performed from the interior of the site with a screwdriver. The rubber coating on this very strong magnet protects the frames. This method, while safe and secure, easy to open or close, allows fragile glass products to be installed once all the dirty and destructive construction work has concluded.