Blue Pin Whiteboard Magnets - 19mm diameter x 25mm | 6 PACK
Product code: 60203A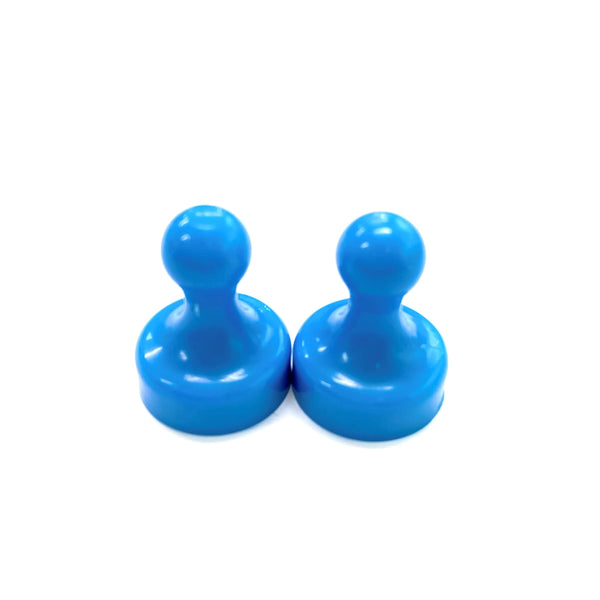 $9.61
buy 10 to 99 items
and
save 12%
$8.60
buy 100+ items
and
save 21%
Blue Pin Whiteboard Magnets - 19mm diameter x 25mm | 6 PACK
Dimensions
Height:25mm, Diameter:19mm
Pawn Magnets Product Description:
Our strong pin magnets, also called pawn magnets,  are made with a Rare Earth Neodymium magnet inserted into their plastic substrate. These whiteboard magnets come in a variety of colours such as Yellow, Red, Green, Black, White, Purple, and Orange. They are very strong for their size and can hold up to 18-20 sheets A4 paper to a metallic surface.
Uses for our handy Pawn Magnets:
Blue pin magnets are often preferred in work and living areas where the colour white predominates. Smaller spaces like offices, kitchens and laundries, motor homes and marine craft as well as portable dwellings associated with mine and construction sites contain many white surfaces compatible with magnetic cling and reward a gentler coordination of colours.
These pin magnets are used to pin or fasten mostly paper and printed materials, like hand written notes and photographs and documents to all kinds of metallic surfaces in the home, garage, office, shed or workshop.
Important documents float through our lives like leaves on the surface of a stream or brook. These materials and documents, accounts payable, quotes, takeaway menus, and postcards are not all equal. Some need to linger longer and more prominently than others.
Sometimes referred to as pawn magnets, these blue pins are subservient to a fault. Loyal peasants ready to do your bidding in the battle against forgetfulness and casual neglect. In the service of their master or mistress blue pins rest on any metallic surface in plain sight.
A clear and present fastening tool, they wait without attracting undue attention, ready to pounce and secure bills, recipes, receipts and photographs at home and at work until their master or mistress are ready to take action on these restrained documents. Having taken the issue in hand, the blue pin is returned to its resting position on the metallic surface to wait as long as it takes for the commanders' next move.
These Rare Earth Pawn Magnets are great for placing items on your fridge or holding signs or documents on a whiteboard at your home, office, or work space.