Magnetic Tape - Black | 10 mm x 0.8 mm x 30 meters
Product code: 59095A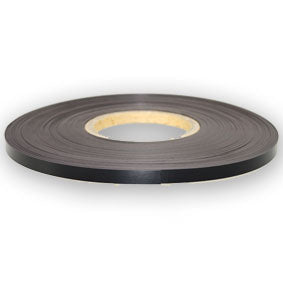 $27.22
buy 10 to 99 items
and
save 6%
$25.21
buy 100+ items
and
save 13%
Magnetic Tape - Black | 10 mm x 0.8 mm x 30 meters
Style
Roll of black magnetic tape
Dimensions
Width:10mm, Length:30m rollmm
Magnetic Product Description:
This black  tape magnet roll has a width of 10mm and a thickness of 0.8mm. The roll comes in a length of 30 metres. It has a black PVC coating. It can easily be cut to size with scissors or a Stanley knife. Identified by the Amf magnets part number 59095A.
Uses for our black magnetic tape:
Black magnetic tape is convenient to use and easy to remove. This flexible tape can be simply cut into different shapes and sizes depending on individual requirements. It is widely applied as a method of labeling and for fastening or holding many different types of signs and messages in markets, offices, homes and schools.
Safe and secure, reliable and replaceable, permanent and removable this product is able to be removed with little or no material penalty or residue to surfaces bonded in this manner.
A width of 10 mm, thickness of 0.8 mm and available in economical lengths of 30 meters, this useful product is cut to suit for labels and signs adorning pallets or crates of goods at markets where variability of contents and prices can require signs that need to be easily removed, re-positioned or replaced.
In film, television and theater production this thin black tape is variously applied to the stage floor or the back of sets and props, as a secret or hidden system for securing script prompts for actors or technical and timing notes for crew without attracting undue attention.
In the landmark film Apocalypse Now, so poor was Marlon Brando's memory, he insisted his famous lines, 'The horror. The horror', be sticky taped to the forehead of his opposite Martin Sheen as a prompt. It probably wasn't black magnetic tape but given the difficulty of removing old fashioned adhesive tape back then, Martin Sheen probably wished it was.
This black tape magnet roll is ideal for labeling and attaching signs to different surfaces like wood, metal and plastic. Also for general office labeling requirements. It is perfect where a dark contrast label is required against a white background.
NB: Ranges are indicative for product category, please check individual products for specic values within that range.
NB: Ranges are indicative for product category, please check individual products for specific values within that range.