Alnico Horseshoe Magnet - 100 mm x 85 mm x 33.5 mm
Product code: 49017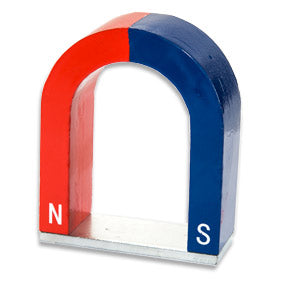 $98.69
buy 10 to 99 items
and
save 15%
$88.92
buy 100+ items
and
save 23%
Alnico Horseshoe Magnet - 100 mm x 85 mm x 33.5 mm
Style
Alnico Horseshoe Magnet
Dimensions
Width:85 mm, Length:100 mm, Thickness:33.5 mm
Product Description:
This Alnico Horseshoe Magnet measures 100 mm (H) x 85 mm (W) x 33.5 mm (D). It has a maximum temperature of 500⁰. The North/South poles are clearly marked.
Uses for our Alnico Horseshoe Magnets:
An alnico horseshoe magnet is a universally recognized symbol that has captivated us from first contact. When presented in the classroom to demonstrate the proprieties and characteristics of magnetism, horseshoe magnets resonate with everyone. Also, unlike other magnets, there is no doubt which direction the magnetic power is being applied. The pointed ends of the horseshoe magnet concentrate, amplify and focus the magnet's strength.